Zuletzt aktualisiert am 19. Juni 2021 von DarkISI
Fangen wir doch erstmal mit den Neuigkeiten an:
IlClan
IlClan, das lang erwartete Sourcebook, befindet sich nun im Druck. Leider wird es den Juli damit nicht mehr schaffen, sondern hat sich auf den August verschoben. Aber damit kommen wir wohl alle klar. Denn: IlClan befindet sich im Druck!
Nach über zehn Jahren ist das Buch endlich fertig und in zwei Monaten dürfen wir es in den Händen halten. Seyla!
Fact Check AMA (Ask Me Anything)
Der nächste Catalyst AMA hat nun ein Thema, aber auch eine Verschiebung. Da es nicht möglich war, die Termine der einzelnen Leute im Juni zu koordinieren und das Ziel ist, dass möglichst viele Teammitglieder teilnehmen, findet AMA nun am 17. Juli statt. Wie gewohnt beginnt er für uns um 20 Uhr (Ortszeit).
Das Thema habt ihr euch sicher schon aus der Überschrift gedacht: Fact Check.
Recognition Guide: IlClan 18
Und damit nun zum frischen Recognition Guide und der angesetzten Pause.
Wie gewohnt gibt es nach 6 Ausgaben eine Pause und Ausgabe 18 ist wieder die sechste (ihr wisst schon: Quersumme aus 1 und 8 und 18 ist durch 2 teilbar, damit ist 18 dann durch sechst teilbar).
Weiter geht es mit Ausgabe 19 am 27 August. Wenn wir an dem Datum dann auch Failings in Teaching bekommen, dann ist das ein wunderschönes Geburtstagsgeschenk von Catalyst an mich.
Der nächste Zyklus geht dann bis Folge 24 (2 plus 4 und 24 ist durch 2 teilbar …) und beendet die Reihe damit auch. Wenn sich nichts ändert, dann kriegen wir sie wieder in einem zweiwöchentlichen Rhythmus und damit am 27. August (19), am 10. September (20), am 24. September (21), am 8. Oktober (22), am 22. Oktober (23) und am 5. November (24).
Aber nun zu dieser Ausgabe.
Diesmal dabei:
Jenner IIC, Eris, Wolverine, Kingfisher, Jenner, Enforcer und Victor.
Record Sheets gibt es 24 Stück.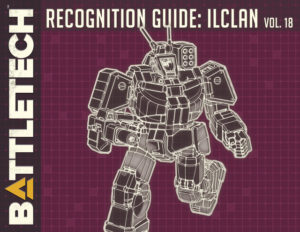 The march of technology across BattleTech's eras is relentless—but some BattleMech designs never die. Each installment of this PDF-only series not only includes a brand new BattleMech or OmniMech, but also details Classic 'Mech designs from both the Inner Sphere and the Clans, now fully rebuilt with Dark Age technology (3085 and beyond). Allowing beloved units redesigned for the BattleTech: Clan Invasion crowd funding campaign to be competitive on "modern" battlefields, this series also includes in-universe development notes, battle histories, notable pilots, and record sheets for each 'Mech. Released as a series of 22 PDF-only documents through the end of 2020 and early 2021, many 'Mechs featured in this series will be collected as a single print volume upon its completion.
---
Dir gefällt die HPG Station? Du willst sie unterstützen? Dann hilf, sie zu finanzieren (Webspace kostet Geld und die News hier eine Menge Zeit und irgendwelche Werbebanner oder Trackingcookis will ich absolut nicht hier haben).
Du kannst entweder einem der Links auf der Seite zu Amazon, Amazon.com oder Drivethru folgen oder auch gerne PayPal Me nutzen und ein Dankeschön hinterlassen.
Recognition Guide: IlClan 18, ilClan im Druck, AMA verschoben