Zuletzt aktualisiert am 23. Oktober 2021 von DarkISI
Und Catalyst bringt die nächste Neuauflage eines Dark Age Romans heraus. Schaffen sie es bis Ende des Jahres?
Diese Woche: Daugther of the Dragon.
Ich weiß, die Romane von Ilsa J. Bick kamen bei einigen Fans nicht so gut an, persönlich mochte ich Katana aber immer sehr und finde es schade, dass sie den Rest ihres Daseins offenbar in einem dunklen Kerker fristen muss.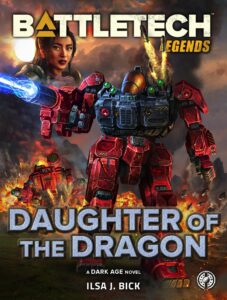 A ROGUE DRAGON RAMPAGES…
Between the Republic of the Sphere and the Draconis Combine stands the military unit known as the Dragon's Fury. Claiming worlds in the name of the Dragon without House Kurita's support and threatening the entire Inner Sphere, the Fury pursue their leader's agenda with fanatical devotion…
Katana Tormark bears the burden of disgrace. A traitor's actions against her father dishonored her family. Now, to regain the respect the Tormark clan deserves, she openly challenges the Coordinator's policy of nonaggression with the Republic, hoping to push House Kurita into a war—one the Coordinator apparently doesn't want.
Warlord Mitsura Sakamoto believes Katana is making House Kurita look weak, and he's determined to turn the situation to his advantage. For he has his own designs on ruling the Combine, and he's not going to let the daughter of a disgraced samurai stand in his way…
Auf Amazon.de kaufen (Taschenbuch & E-Book)
Buy on Amazon – International link to YOUR Amazon (paperback & eBook)
Auf Drivethru kaufen (E-Book)
Daughter of the Dragon – Neuauflage