Zuletzt aktualisiert am 11. März 2023 von DarkISI
Es gibt eine ganze Reihe von Neuigkeiten von Catalyst. Gestern hatte ich schon einen Artikel zu den neuen kostenlosen Record Sheets zu den Mercenary Force Packs gepostet und jetzt gibt es mehr.
Phoenix Hawk Premium Miniatur
Die letzte Woche angekündigte Phoenix Hawk Miniatur ist jetzt im Catalyst Store verfügbar. Ich weiß auch, dass der SciFi Trader sie bereits geordert hat und dann, wie gewohnt, in den Shop aufnehmen wird, sobald sie eintreffen. Ihr müsst euch jetzt also keinen Kopf um die hohen Versandkosten aus den USA machen.
Spannend an der Miniatur ist, dass Catalyst sie mit einer neuen Fertigungstechnik bewirbt, mit der wohl auch alle anderen Premium Miniaturen aufgepeppt werden sollen. Ich bin gespannt.
Wie gewohnt sind mehrere Arme und Beine enthalten, um die Miniatur unterschiedlich hinstellen zu können. Darunter auch die Möglichkeit einer knienden Position.
Mercenaries Kickstarter Preview
Das nächste kostenlose Preview zum Mercenary Kickstarter ist ebenfalls online und bietet wieder einen kleinen Einblick in das, was da kommt. Ebenfalls wird darin die nächste Mercenary Tales Geschichte für den 10. April angekündigt. Joy and Ashes von Randall N. Bills und Bryn K. Bills.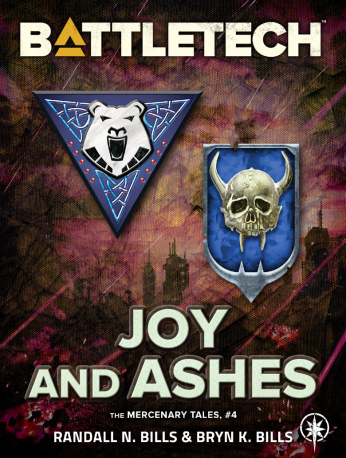 T-Shirts
Neue T-Shirts gibt es ebenfalls wieder. Für die müsst ihr aber leider die Versandkosten auf euch nehmen. Diesmal die Northwind Higlanders und Republic of the Sphere.
Adepticon Livestreams
Zu guter Letzt gibt es dann noch einen Ausblick auf die Adepticon Livestreams.
Als Gäste werden vor Ort sein:
Randall N. Bills, Loren Coleman, Ray Arrastia, Brent Evans, Anthony Scroggins, John Helfers, Michael Ciaravella.
Wenn ihr jetzt nicht wisst, wer da wer ist, dann schaut hier vorbei.
Den aktuellen Ablaufplan (kann sich ändern) findet ihr hier.
Phoenix Hawk Mini, Mercenaries Kickstarter und Adepticon News