Zuletzt aktualisiert am 5. Januar 2022 von DarkISI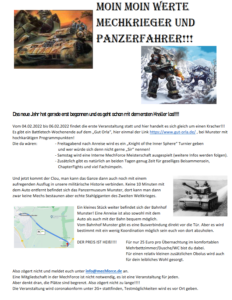 Die erste Battletech-Con für das neue Jahr ist nun schon angekündigt.
Vom 4. bis zum 6. Februar lädt die Mechforce Germany e.V. nach Gut Orla ein.
Nach der Anreise am Freitag wird es ein Turnier um den Titel "Knight of the Inner Sphere" geben. Wer will also "Sir" oder "Lady" werden?
Samstag richtet die Mechforce ein internes Turnier aus, das sollte den Rest aber nicht davon abhalten entweder zuzuschauen oder einfach unabhängig davon etwas zu spielen.
Vom Bahnhof Muster aus gibt es einen Bus direkt vor die Tür, allerdings kann bei Absprache wohl auch ein Abholservice eingerichtet werden. Schreibt dazu am besten eine Mail an info@mechforce.de. Generell solltet ihr das tun, um euch anzumelden, denn die Plätze sind begrenzt.
Zu eurer Sicherheit wird die Con vorschriftsmäßig als 2G+ Veranstaltung ausgerichtet. Testmöglichkeiten vor Ort sind vorhanden.
Mit 25 € seid ihr günstig dabei und kommt in Mehrbettzimmern unter. Verpflegung kann vor Ort gekauft werden (die Veranstaltung bietet etwas) und ist nicht im Conbeitrag erhalten.
Für historisch Interessierte gibt es knapp 10 Minuten entfernt noch ein Panzermuseum aus dem zweiten Weltkrieg.  Vielleicht findet ihr da ja einen Panzer, der euch gefällt? Dann könnt ihr gleich das kostenlose Experimental Technical Readout: 1945 auspacken und ihn im Gefecht zum Einsatz bringen! Wenn ihr das macht, erstattet Bericht. Ich habe leider noch nie erlebt, dass jemand mit den Panzern spielt. Lustig dürfte es allemal sein.
Genug erzählt? Dann jetzt ran an die Fusionsreaktoren und die Anmeldungsmail verschicken.
Trotz der Mechforce Germany e.V. als Veranstalter und dem Turnier am Samstag ist eine Mitgliedschaft nicht erforderlich. Solange ihr an Battletech interessiert seid, könnt ihr kommen. Auch ganz ohne Vereinsmitgliedschaft.
Battletech auf Gut Orla (04.02.22 – 06.02.22)