Zuletzt aktualisiert am 6. August 2022 von DarkISI
Die GenCon 2022 ist gestartet. Wie gewohnt wird es über die nächsten paar Tage vermutlich einiges an Infos, Bildern und Videos geben.
So konnten wir vorab zum Beispiel bereits diesen lebensgroßen UrbanMech begutachten: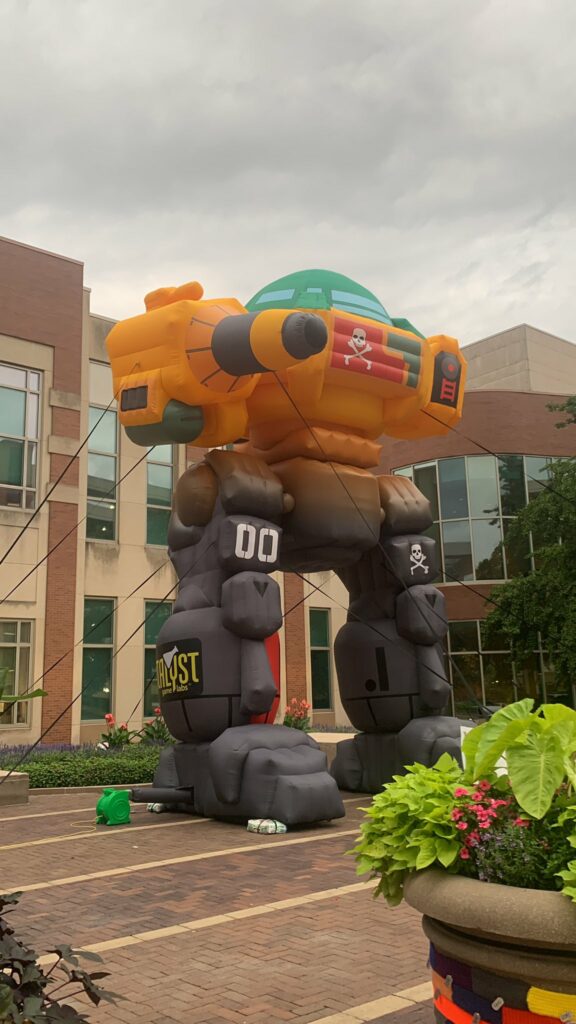 Zusätzlich gibt es dieses Video (ACHTUNG: Facebooklink) von Catalyst Game Labs direkt vom Stand. Gut zu sehen sind die Mengen an Force Packs, auch der Wolf's Dragoons Assault Star, A Game of Armored Combat und Clan Invasion Boxen. Auch die neue Beginner Box ist in großer Zahl vorhanden. Bei den Premium Minis habe ich den Wolfhound IIC identifizieren können, keine Ahnung, ob vom Rest auch was vorhanden ist. Was auf jeden Fall gut sichtbar da ist, ist die Alpha Strike Box!
Das Camospecs Diorama ist auch wirklich spannend, aber ich freue mich auf jeden Fall auf mehr Fotos mit besserer Auflösung. Damit wir auch die Details betrachten können. Ich hatte aber den Eindruck, dass ich Prototypen aus dem Mercenary Kickstarter im Herbst darunter befinden.
Abseits von Battletech ist natürlich auch Shadowrun mit einer Wagenladung an Material vertreten. Das ist nochmal genauso beeindruckend. Sprawl Ops ist in großer Zahl vorhanden, Regelbücher, Hintergrundmaterial und auch Miniaturen.
Leviathans habe ich im ersten Lauf gerade vor allem das große Banner im Hintergrund gesehen, aber es gibt auf jeden Fall mehr. Ich weiß, dass das Spiel am Stand ausgestellt sein soll und dort auch Demos laufen.
Und sonst? The Duke ist vertreten, das war zu erwarten, aber ich habe auch ein Spiel namens "Super Camelot" gesehen. Was ist das? Weiß jemand mehr? Ich konnte es nicht im Catalyst Store finden.
Wenn es mehr Bilder und Infos gibt, dann zeige ich die hier. Behaltet den Beitrag also im Auge, ich werde ihn immer mal wieder aktualisieren.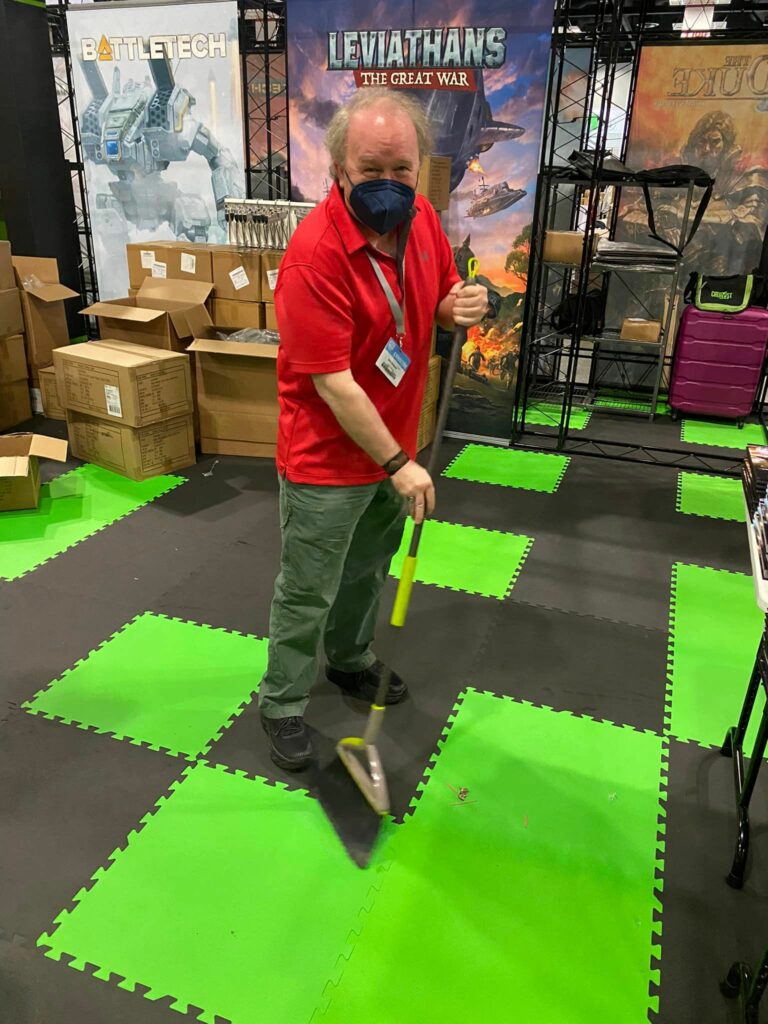 [UPDATE 1 – Mercenary Box]
Mittlerweile ist auch ein Bild der Mercenary Kickstarter Prototypen aufgetaucht. Und ein Mockup der Mercenary Box. Ob es wohl wieder ein alternatives Kickstarter-Cover geben wird?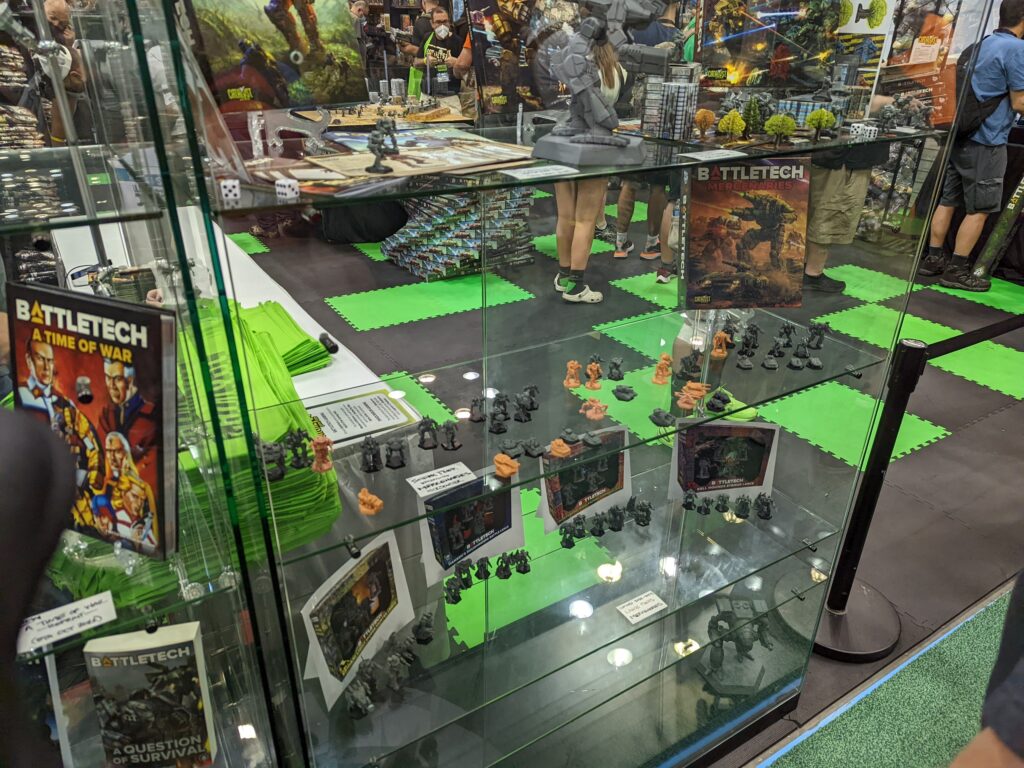 [Update 2 Mehr Bilder!]
Nachdem das Bild aus Update 1 von Cataphract_40 schon schön war, wie findet ihr den Rest von ihm? (Genutzt mit freundlicher Genehmigung.)
Mehr Bilder vom Mercenary Kickstarter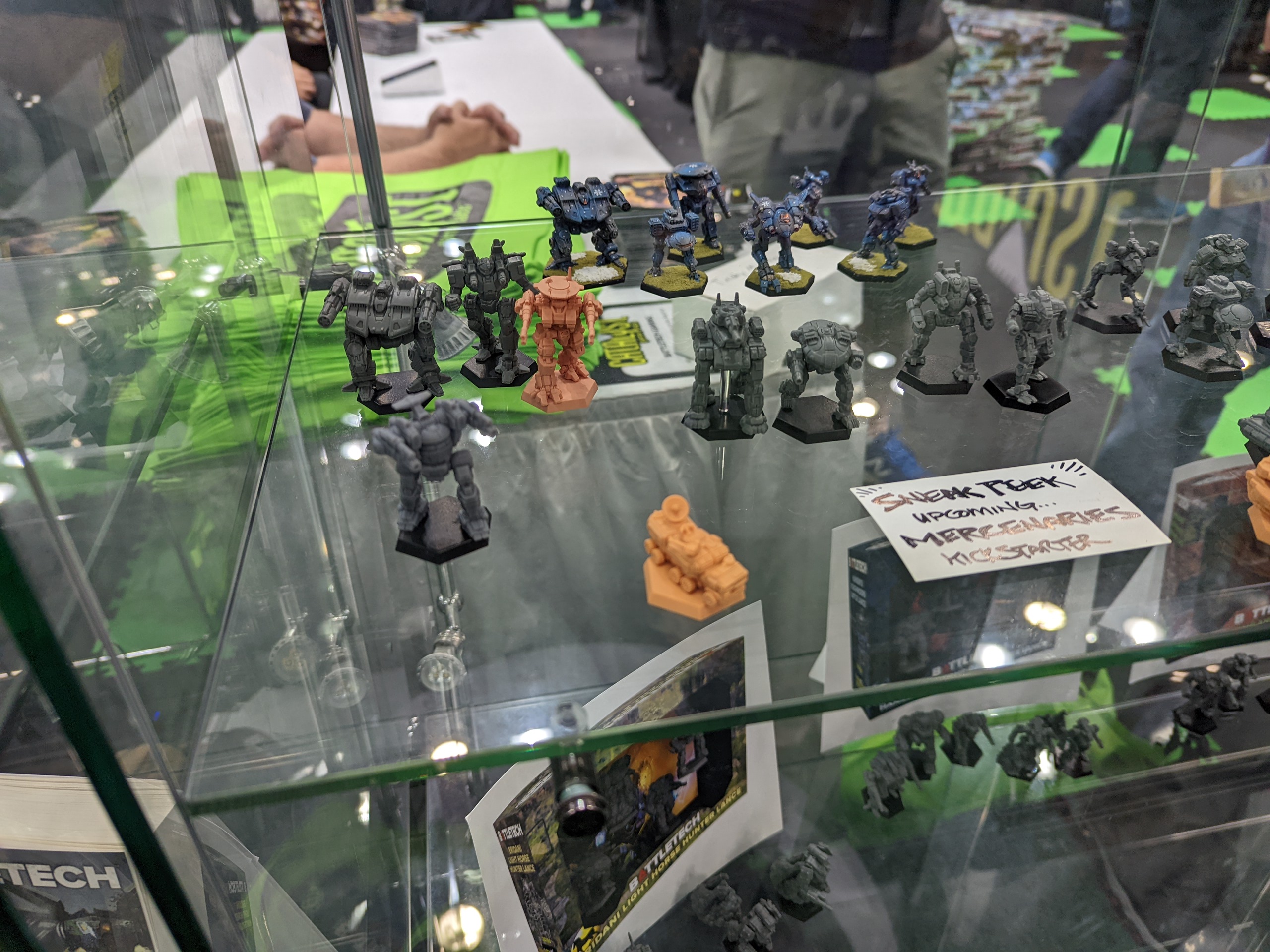 Oder Destiny Scale Miniaturen, die sich offenbar in der Entwicklung befinden. Dabei ist vom neuen Rollenspielsystem MechWarrior: Destiny die Rede.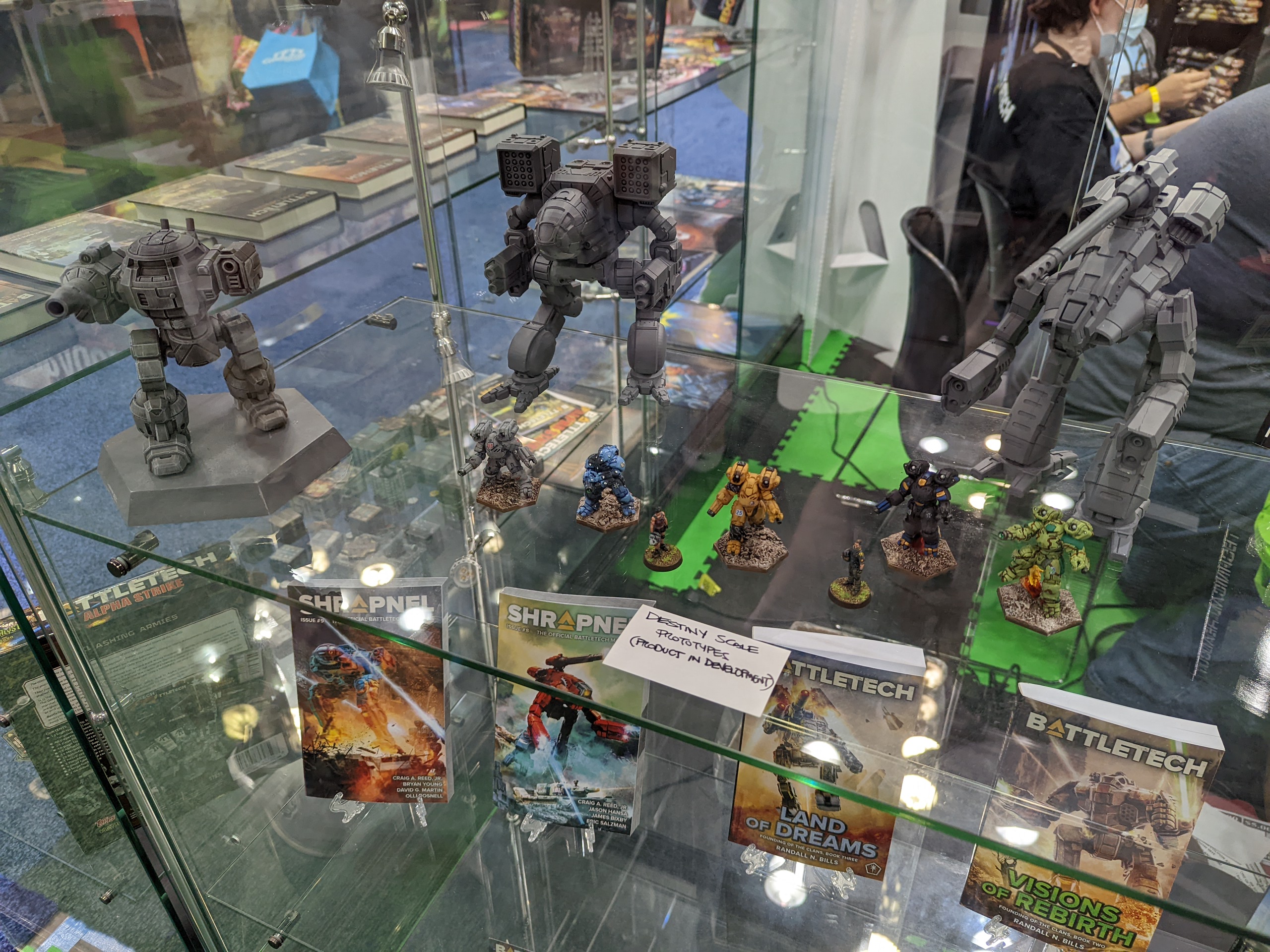 Das GenCon Diorama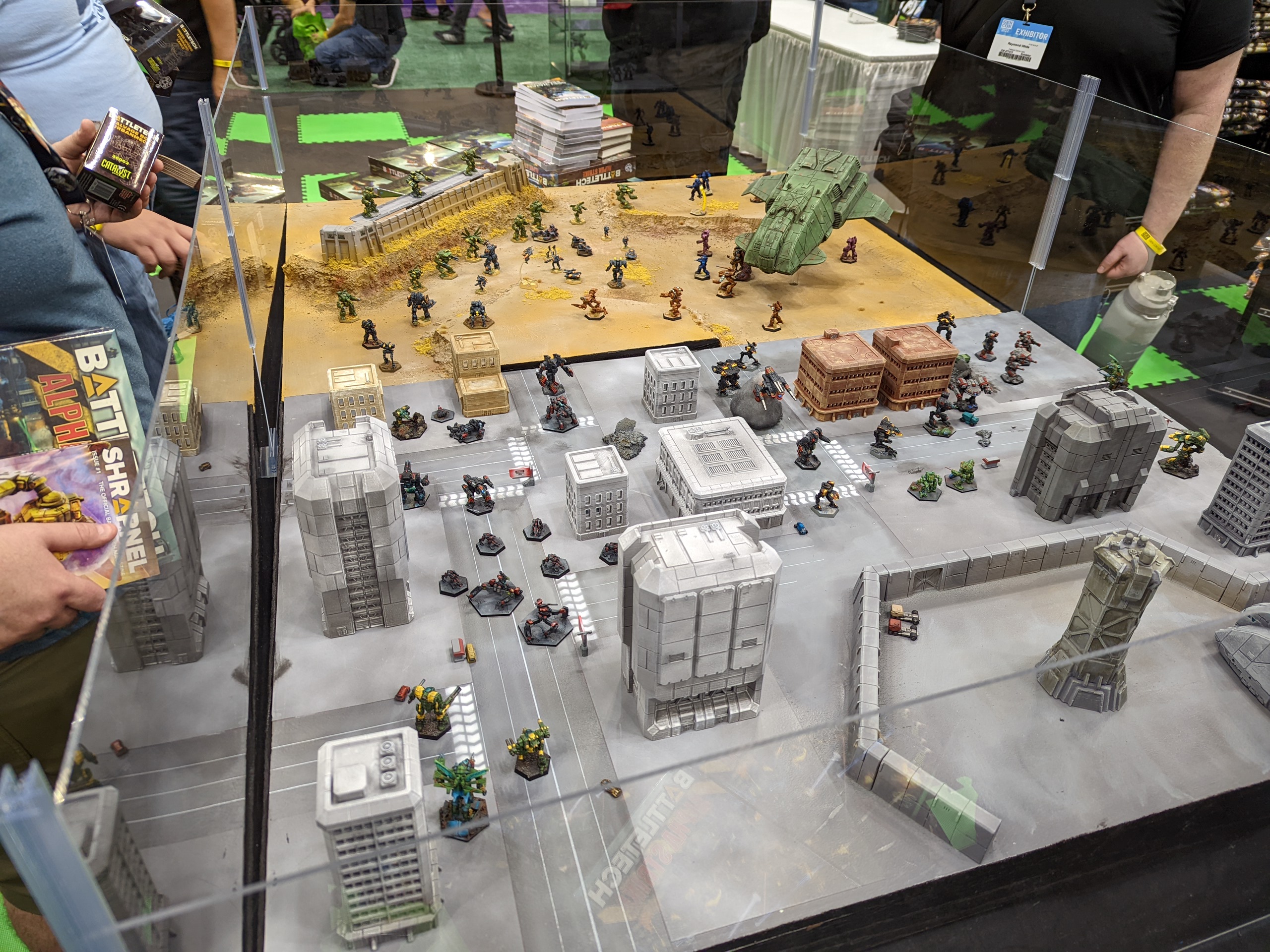 Und dann war da noch die Alpha Strike Box und ihr Inhalt.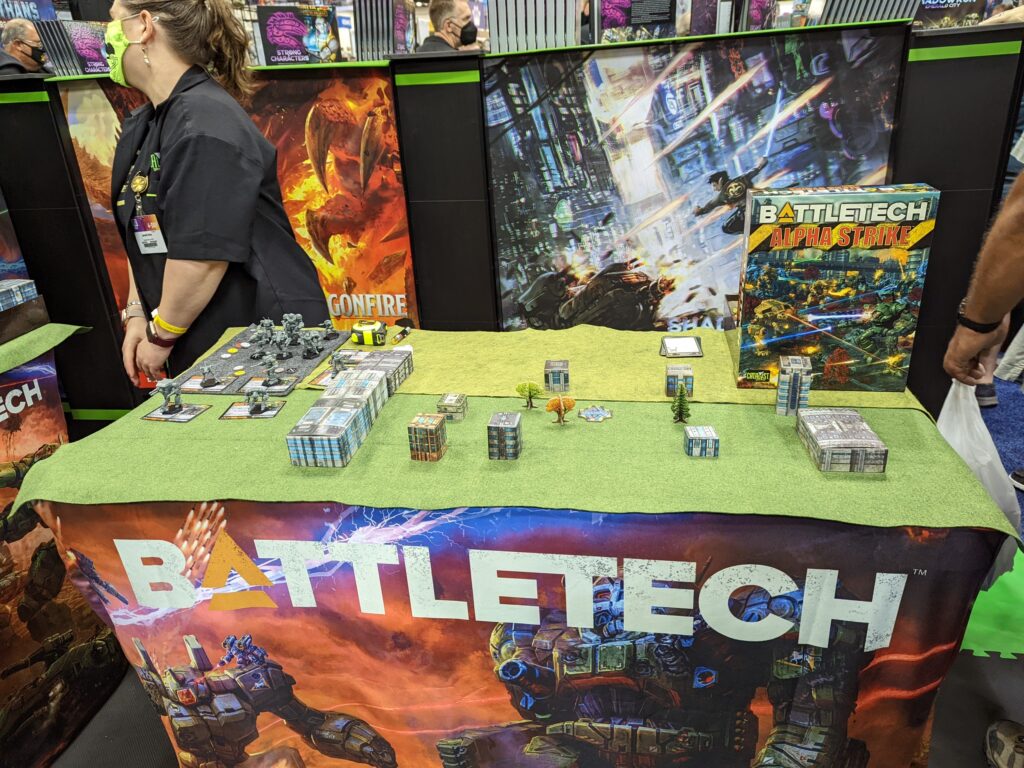 Und dann waren da noch die neuen Force Packs.
Miniupdate – Wie schnell war die Alpha Strike Box auf der GenCon ausverkauft?
3 Stunden!
Update 4 – Gameplay Videos
Wenn ihr die ersten beiden Livestreams gestern verpasst habt (Battletech und Leviathans), dann könnt ihr sie euch jetzt auch nachträglich anschauen.
Battletech
Leviathans
Alpha Strike
Heute um 17 Uhr ist dann noch der Alpha Strike Stream live, den ihr euch hier anschauen könnt.
Shadowrun: Takedown
Um 21 Uhr könnt ihr euch dann eine Runde Shadowrun: Takedown anschauen
Update 5 – Mercenary Kickstarter Force Packs
Catalyst hat die Einheiten in der Vitrine etwas geändert. Statt der Force Packs die ab Herbst exklusiv bei verschiedenen Händlern und Großhändlern auftauchen, gibt es nun eine Ladung an Mechs und Force Packs, die für den Mercenary Kickstarter im Herbst geplant sind (Änderungen natürlich möglich).
Um nicht nur Fotos anschauen zu müssen (immer diese Fotos von coolen Miniaturen, einfach unerträglich 😉 ), hat ein Fan noch eine Exceldatei zusammengestellt.
Die Fotos mit freundlicher Genehmigung von "Derek".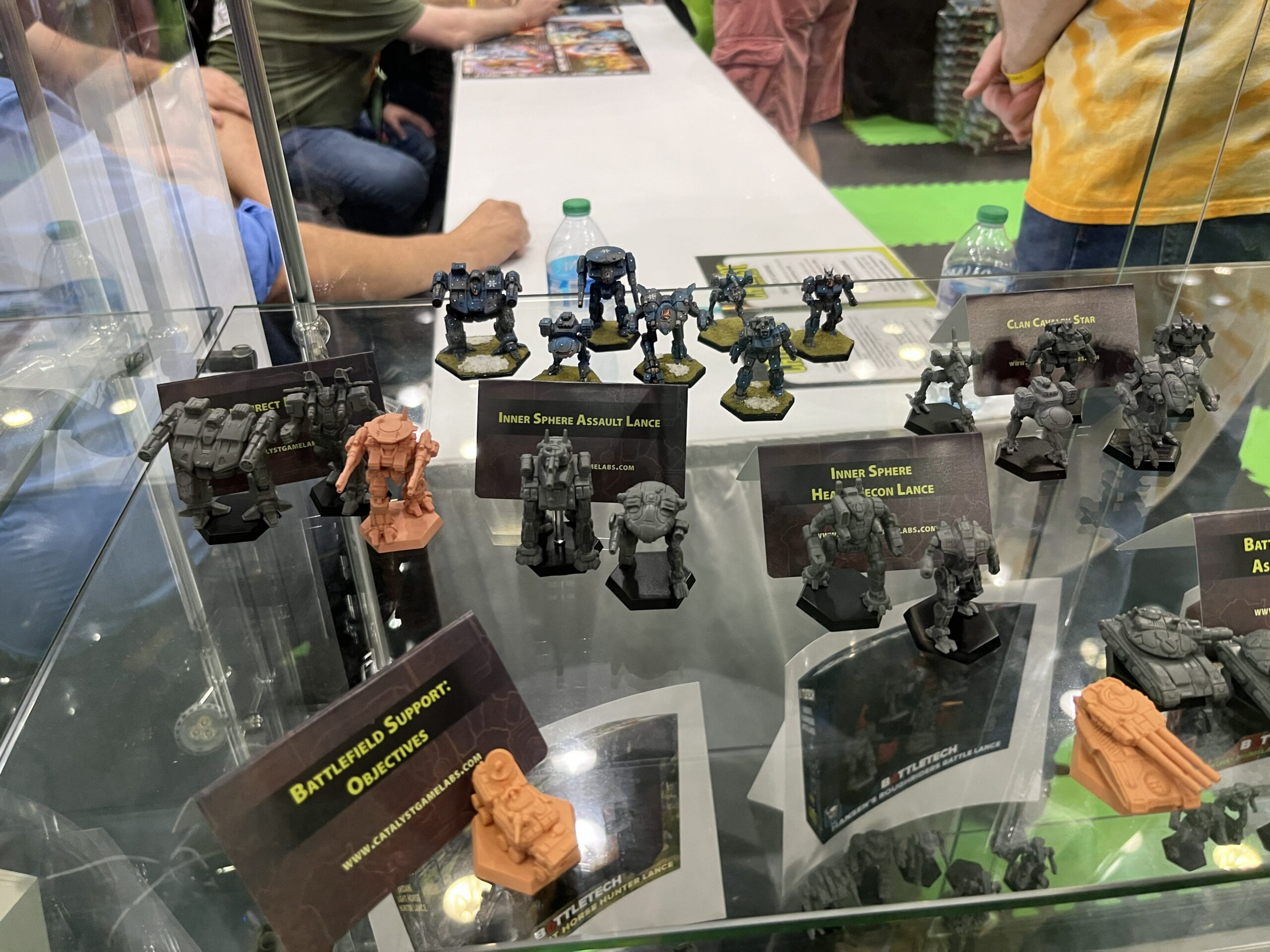 ---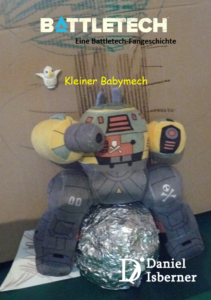 Dir gefällt die HPG Station? Du willst sie unterstützen? Dann hilf, sie zu finanzieren (Webspace kostet Geld und die News hier eine Menge Zeit und irgendwelche Werbebanner oder Trackingcookis will ich absolut nicht hier haben).
Du kannst entweder einem der Links auf der Seite zu Amazon.de, Amazon (COM, CA, FR, IT, UK…) oder Drivethru folgen oder auch gerne PayPal Me nutzen und ein Dankeschön hinterlassen. Gerne könnt ihr die HPG Station auch über Patreon unterstützen.
Kleiner Babymech/Little Baby Mech ist als kostenlose Fangeschichte verfügbar. Das perfekte Buch für alle kleinen Battletech-Fans.
GenCon 2022 – Bilder, Videos und Infos [Update 5 – Mercenary KS Force Packs]