Zuletzt aktualisiert am 20. März 2023 von DarkISI
UPDATE: Neue Karte der Mechforce. 🙂
Link zum Kickstarter (pre-launch) und weitere Infos gibt es hier.
Dass die von Catalyst unterstützte Launch Party für den Battletech Mercenaries Kickstarter in Berlin stattfinden wird hatte ich ja schon erwähnt.
Nun fehlten aber noch ein paar Details und es wird auch nicht nur die eine Launch Party geben. Die Mechforce Germany e.V. war so nett und hat eine coole Karte für uns alle gebaut, die ich euch nicht vorenthalten will.
Aber nun zu den Details:
Catalyst Launch Party, Berlin
Wo: UniPlay e.V., Heckerdamm 210, 13627 Berlin
Wann: Samstag 25.03. ab 18 Uhr bis open end. Sonntag 26.03. 10 – 18 Uhr
Was: Battletech! Ich werde auch vor Ort sein, über Battletech quatschen und gerne auch Bücher signieren (idealerweise welche, die ich geschrieben oder an denen ich mitgeschrieben habe, aber gerne auch was von Schiller). Andreas "Andai" Hoffmann wird als Demo Agent vor Ort sein.
Preis: Eintritt frei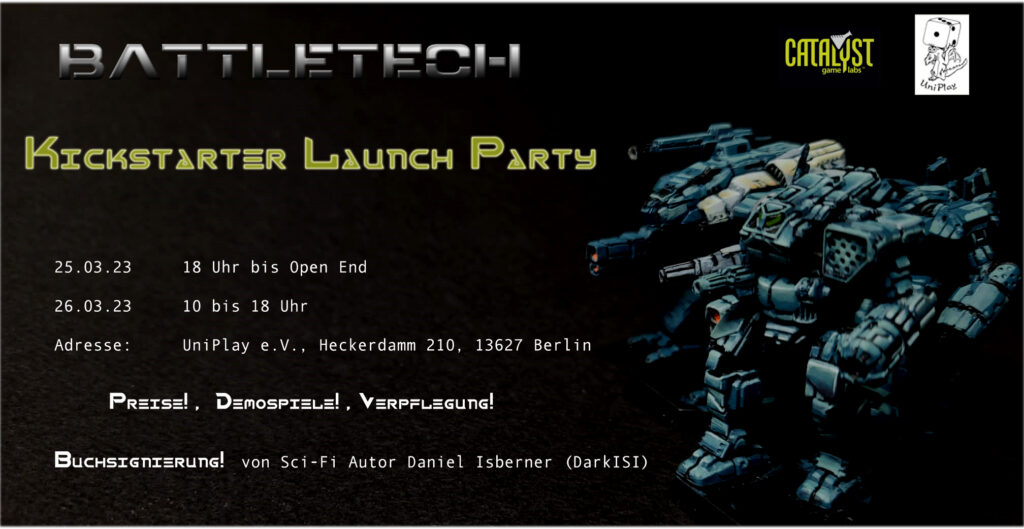 Falls ihr euch fragt, welche Battletech-Bücher ich euch denn da signieren könnte, hier eine kleine Liste an gedruckten Büchern an denen ich mitgeschrieben habe (digital gibt es noch ein paar mehr, aber die signieren sich so schlecht):
Technical Readout: Prototypes
Technical Readout: 3150
Technical Readout: Golden Century
Gejagt (German novel)
MechWarrior Pilot Deck: Champions of the Inner Sphere I
Pilot Card: Tyra Miraborg (Shilone)
Braunschweig (Red Lion Con)
Wo: KINDER- UND JUGENDZENTRUM MÜHLE, An der Neustadtmühle 3, 38100 Braunschweig
Wann: 25.03. 10 – 19 Uhr, 26.03. 9 – 16 Uhr
Was: Viel
Preis: Samstag: 6 €, Sonntag: 5 €, Wochenendkarte: 10 €
Hamburg
Wo: Atlantis, Güntherstraße 98-100, Hamburg
Wann: 25.03. 10 – 15 Uhr
Was: Battletech!
Preis: Eintritt frei
Kempten
Wo: Heldenschmiede, Bäckerstraße 15 – 17, 87435 Kempten
Wann: 26.03. 10 – 19 Uhr
Was: Szenario. Bitte bringt eine Lanze mit. Details hier (Achtung FACEBOOKLINK!)
Preis: 8 €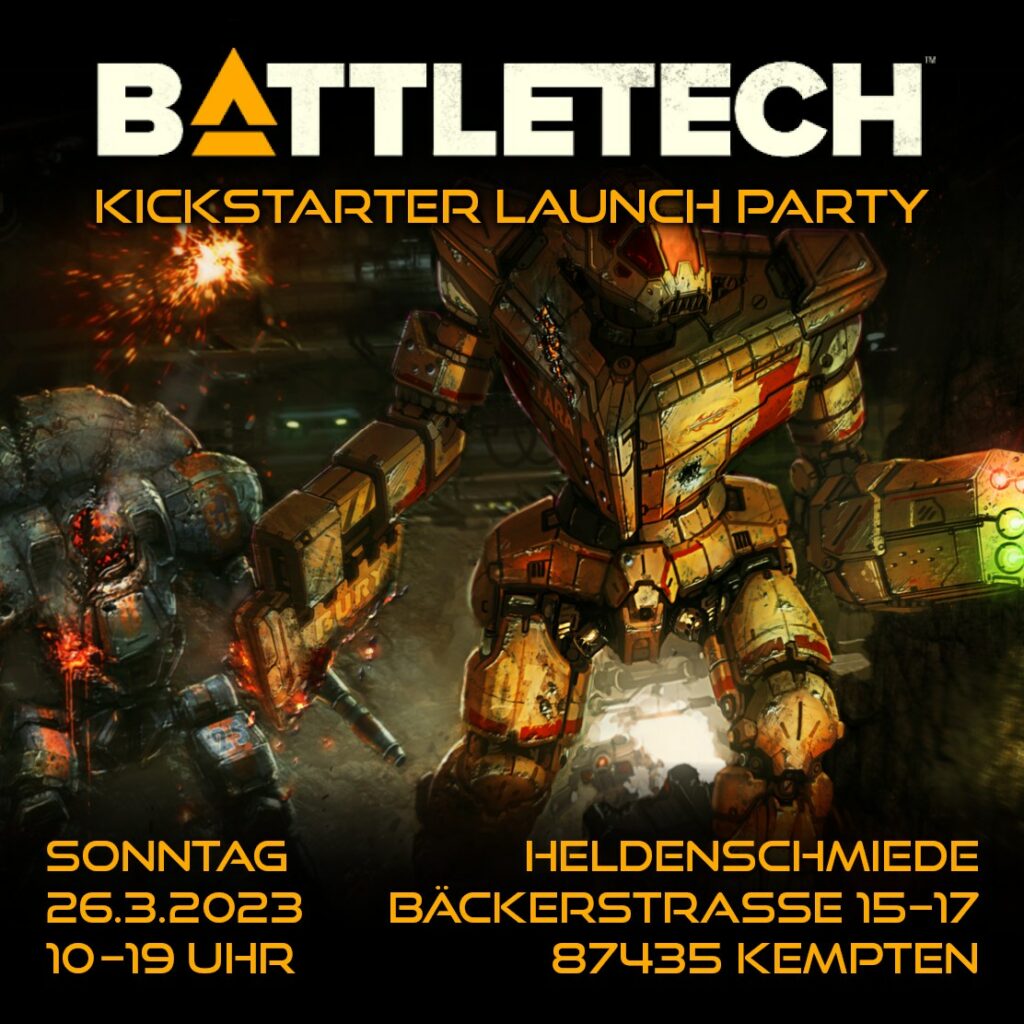 Koblenz
Wo: "Der Kreis", Am alten Hospital 3a, 56068 Koblenz
Wann: 25.03. 15 – 22 Uhr
Was: Bemalte Prototypen der neuen Miniaturen, 3D Gelände, verschiedene Szenarios
Preis: Eintritt frei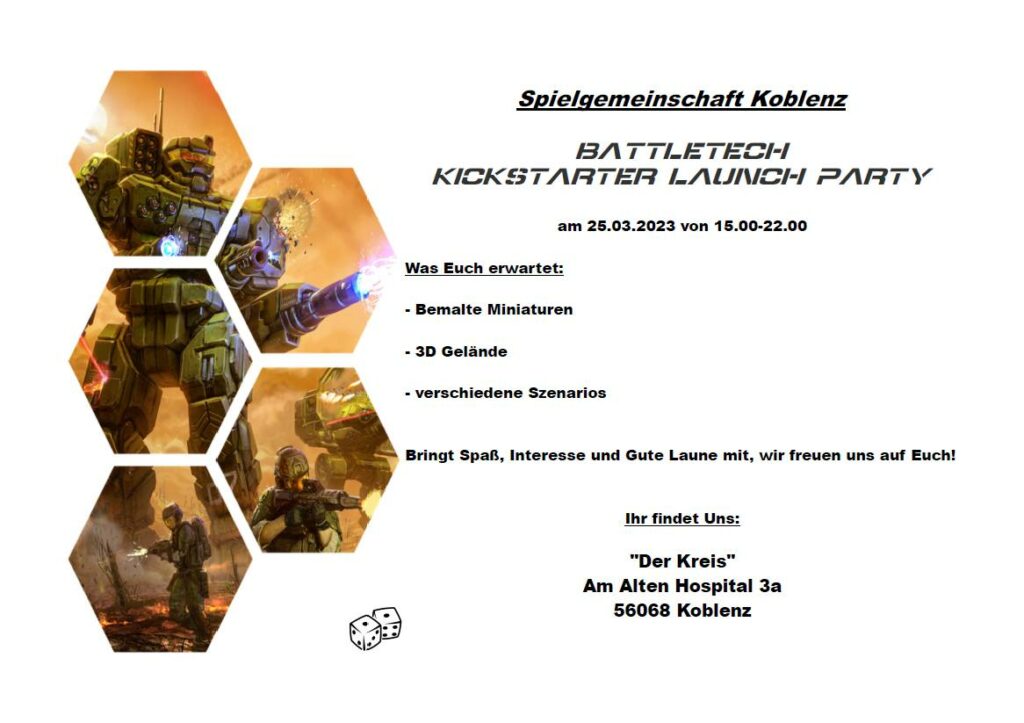 München
Wo: Pilsquelle, Heldeckstraße 14, 80367 München
Wann: 26.03. ab 10 Uhr
Was: Battletech, Destiny, Alpha Strike
Preis: Eintritt frei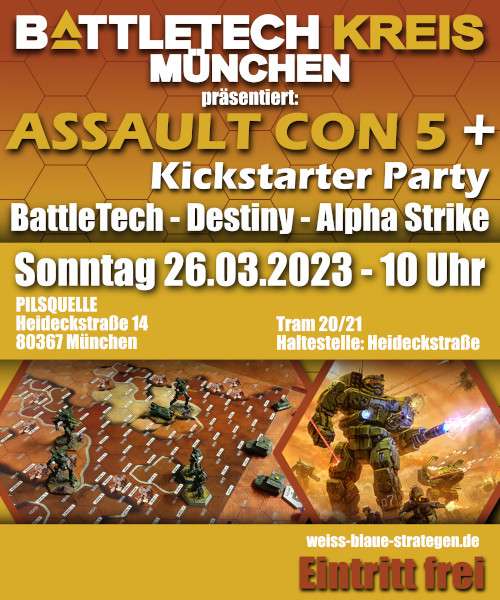 Wipperfürth
Wo: Intergalaktischer Handelsposten, Untere Straße 41A, 51688 Wipperfürth
Wann: 25.03. 13 – 20 Uhr
Was: Battletech, Alpha Strike Szenario, 3D Gelände,
Preis: Eintritt frei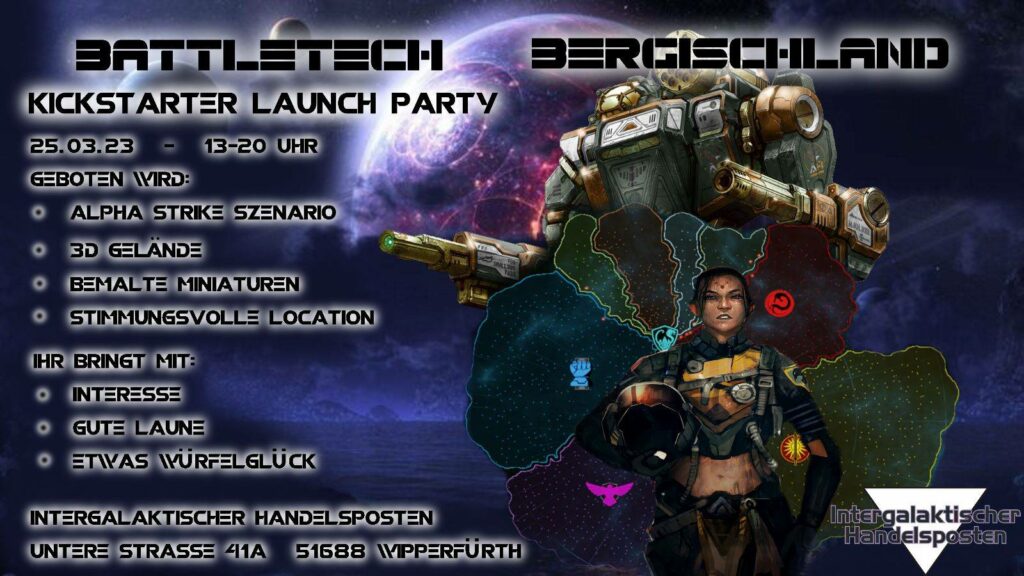 Mehr
In München, Kiel, Süßen und Nürnberg werden ebenfalls Veranstaltungen bzw. Spielrunden stattfinden. Hierzu fehlen mir aber zum Teil noch Details wie Uhrzeiten, daher kann ich euch auch nicht mehr sagen, als ihr aus der Karte oben bereits ersehen könnt.
Wenn mehr Details zu den einzelnen Locations verfügbar werden, dann trage ich sie hier natürlich nach.
Denkt ansonsten schonmal daran, euch für den Kickstarter anzumelden, um zum Start informiert zu werden. Das nächste Pre-Launch Update hat Catalyst übrigens für Freitag angekündigt. Durch die Zeitverschiebung zwischen den USA und Deutschland, kann das Update für uns aber auch mitten in der Nacht online gehen und wir erfahren es erst Samstag früh. Sobald ich es sehe, taucht aber auch hier etwas dazu auf.
Battletech Kickstarter Launch Partys in Deutschland (Update)